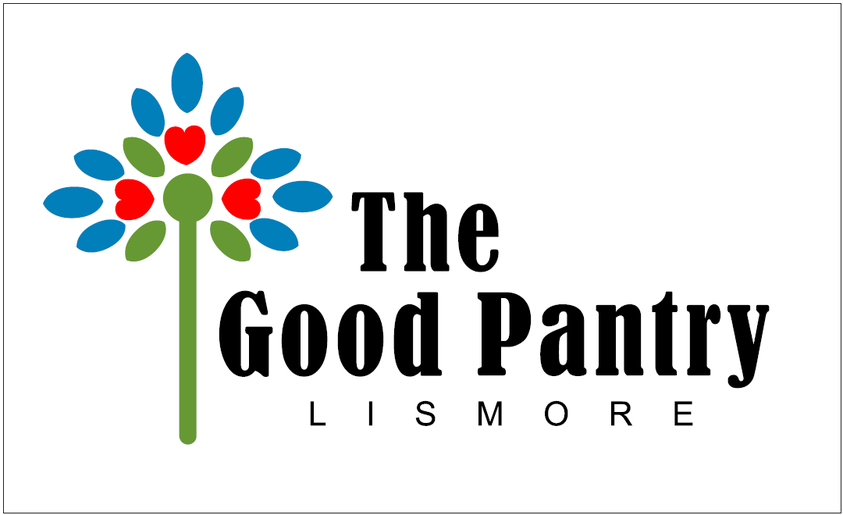 The Good Pantry
serves low cost grocery items to people in need in our region.
Food products are currently sourced from FoodBank NSW, and the Pantry operates as an Agency Partner of Foodbank. The Pantry is auspiced by The Lismore Soup Kitchen inc, and operates under a 50/50 funding partnership with the Lismore Catholic Diocese. We are very grateful for the Diocese's support.


On coming to the Good Pantry for the first time, shoppers are asked to become members. This process is simple and straightforward and there is no cost to become a member. We ask that people bring their health or concession card if they have one. If you have need, but don't have such a card, we ask you tell us about your situation, as we want to help anyone who has need.
Needs have become complex in post flood Lismore, as even people with a wage can be struggling financially as they repair their house, as interest rates or rents rise, or any number of other reasons.
The Good Pantry operates on a cost recovery model, meaning that we charge a small amount (ie $10 a bag) to cover some of the costs we have in keeping the centre running. This is part of our agreement with Foodbank NSW. We are spending more than we retrieve in operating the Good Pantry. Our agreement with Foodbank NSW, requires us to offer this service only to people in need, which is why we have to ask some questions. If you have no money, please come and ask if we can help, as we don't want anyone to go hungry.
After the floods in February and March 2022, this venue previously operated as the Lismore Food Hub which closed in June. We are thankful, particularly to the organisation Turbans For Australia who helped our city a lot during this period, including supporting the previous Food Hub.
In the 4 weeks from July 18 to 11th August, we have averaged 34 people each day accessing the Pantry, and many shoppers are buying food for at least 2 people, often more. The Pantry has approximately 500 members as at 12th August. The Good Pantry phone number is: 0422981363 (during opening hours)

Lismore Soup Kitchen (The Winsome) has a long history of being well supported by the Lismore Community, and we are very thankful for that ongoing trust that has been placed in us. We do invite donors to support us in this cause. Financial gifts can be given by direct bank transfer (we like that - no fees!), or via the least expensive platform we know of for processing credit card donations (GiveNow). Donations are Tax Deductible, but we need you to send us your contact details via email to be able to provide you with a receipt if you're giving via bank transfer. Please communicate with us using This email address is being protected from spambots. You need JavaScript enabled to view it., and indicate that you'd like your donation to go towards The Good Pantry.
If you wish to give via bank transfer, our account details are (and don't forget to send us an email with your contact details!)
Account Name: Lismore Soup Kitchen inc
BSB: 012-528
Account Number: 201109715
Bank: ANZ Ballina

---