We currently have several projects in process to help people back into their own homes, aiding with people's rebuilding needs, and also essential repairs at our two facilities; The Winsome, and Mazzer House.
Our organisation has a minimum of overhead, and is placing money where it is most needed. We invite you to contribute financially to the huge needs we are currently facing. Donations are Tax Deductible.
The Flood
Overnight on Sunday 27th February, Lismore suffered one of its worst ever flooding events, 2 metres higher than anything in recorded history. During the early hours of Monday the flood waters rose quickly and unexpectedly, and many people in Lismore found themselves trapped by rising flood waters. There are many stories of heroic rescues, and of people who feared for their lives as the waters rose around them. Tragically there has also been some loss of life.
On the Sunday night of the flood, we took the early decision to evacuate our residents from the Winsome, so during this time of great stress, our residents were bedding down in the Church of Christ hall in Goonellabah, and this became their home for the next 2 weeks. Our residents are now back in their own rooms at the Winsome, as we made that need a priority. It is such a huge relief that the flood water did not enter our first floor area.
An estimated 3800 of Lismore's homes have been decimated, and many people are struggling to find a way forward in where they will live in the long term. There has been a lot of cleaning and repair work done, and this still continues.
A second flood occured at the end of March, which rose to around the levels of the 2017 flood. This was lower, but much of the city, including the Winsome was once again inundated with flood water. Our residents spent almost another week in evacucation in Goonellabah.
At the Winsome, our entire ground floor, and underneath to the back yard have been flooded. The flood waters from the first flood reached into the ceiling between the ground and first floor, and so we are still working on ensuring the building is safe and healthy for the long term. There is major work involved in this, including removing plasterboard walls and ceiling pieces. There is much work to do here. However, an equal concern and focus is the well-being of those who we know. Several of our key volunteers still cannot live in their previous homes as yet. Many people from Lismore and region are still living in temporary accomodation in various locations.
As for our kitchen, the stoves have been removed to the verandah, and have been thoroughly cleaned. We are waiting to hear if the dishwasher can be used again, and we have found a supplier in Brisbane for new fridges and a freezer. Our electrical contractor has also been working hard, first of all to restore power to the first and second floor, and is now working on rewiring the ground floor, where the damage to the electricals has been fairly major in some of the rooms. We have put a lot of thought into flood resilience with rewiring.
With all of this work still needing to be done, its hard to say when we will be operating again, possibly still some weeks yet. A lot of our regular people have been staying elsewhere, and we haven't seen many at the Winsome. There are various food popups currently around the city, including one in the Browns Creek carpark, auspiced by the Koori mail. They are serving warm meals, and we will encourage people to go there meals, while the Winsome is prepared for food service again.
We encourage all our supporters to give as they can to help us in our support of others; both those we support directly in being able to get back into their houses, but also those we support in trying to get the Winsome back into operation again as well. Please know that our aim is to put people first in all we do, and that as volunteers all monies raised go directly to the areas of greatest need.
Details
* Materials - Pending Allocation are materials purchased ready for use on either the Winsome/Mazzer restoration project, or on projects in the community where we are engaged in repair of houses.
Note: We are preparing a separate graph representing the expenses relating to the establishment of "The Good Pantry"
Ridley Bell on Repairs at The Winsome
Repairs Underway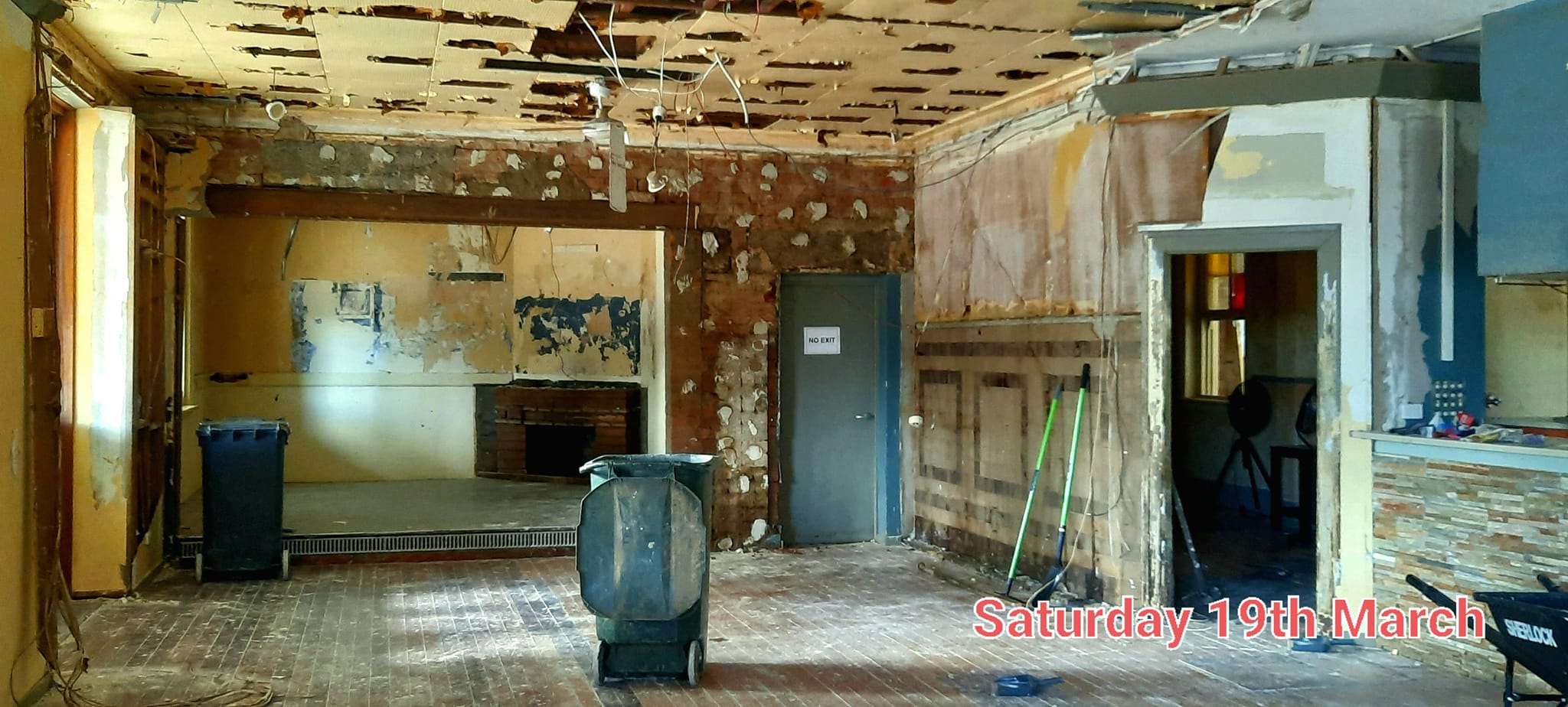 Repairs Underway Video